DEADLINE TO REGISTER: AUGUST 30, 2013 SPACE IS LIMITED!!


THE MISS GEM PAGEANT 2013

Grandmothers/Granddaughters Embracing Maturity Pageant

Time and Date TBA
Jacksonville Fl.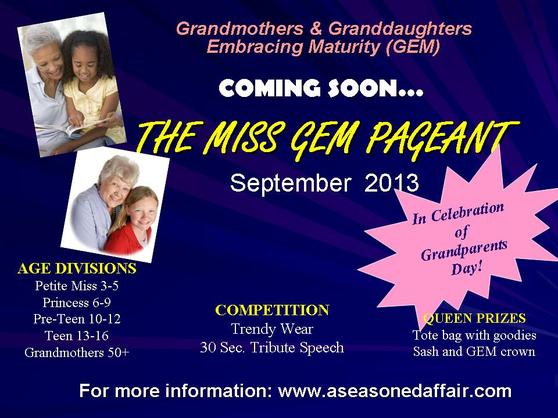 WHO ARE THE CONTESTANTS:
Contestants are grandmothers aged 50 and above and their granddaughter
AGE DIVISIONS:
Petite Miss
3-5
Princess
6-9
Pre -Teen
10-12
Teen
13-16
WHY IS THIS IMPORTANT?
There is a special bond between a grandmother and granddaughter and one that needs to be embraced more frequently
BENEFITS OF THE MISS GEM PAGEANT:
Embrace maturity together
Build/strengthen grandmother/granddaughter relationship
Do something different
Be in a pageant
"

Celebrate Grandparents Day/Month
"
Natural beauty is advised
Have FUN!
WHAT ARE THE CATEGORIES:
1) Trendy Wear - Trendy wear is an outfit of your choice. It is recommended that is be a modern attire that is coordinated between the grandmother and granddaughter. The coordination can be the same style, the same color, alternating color or a specific theme wear.
The attire should be age appropriate. We discourage make up for ages 3-5. Flippers are not necessary for young girls and low glitz it acceptable.
2) 30 Second speech: The grand
mother and granddaughter provide a tribute to each other within 30 seconds. All speeches should be memorized and spoken from the heart. A timer will be set for each GEM contestant.
PAGEANT FREQUENTLY ASKED QUESTIONS
1. Do I need pageant experience?
No. You do not need to have prior pageant experience to participate.
2. Can I participate without a grandmother or without a granddaughter?
No. This is a joint pageant with grandmothers and granddaughters. All pageant categories will be performed on stage in unison.
3.
Do I need to bring a change of clothes?
It's totally up to you. You should be ready to model and make your tribute when you arrive. This is a one attire pageant. Contestants are asked to come prepared in their trendy wear. All contestants should plan to arrive by 1:15PM but do not need to arrive any earlier. Your contestant number will be provided to you on pageant day.
You should practice with your grandmother/granddaughter beforehand.
4. What are the prizes?
Each queen in each category will receive a GEM sash, a tote bag filled with pageant surprises, and a GEM crown.
Each participate will receive a certificate of participation and a small gift bag of pageant surprises
ADMITTANCE TO PAGEANT
The cost for all supporters and observers
is only $5. Sorry, credit cards and checks will not be honored on the day of the pageant for admission.
PAGEANT ENTRY FEES:

Deadline ~ August 30, 2013
10 contestants are allowed for each age division. Registration is on a first come basis, so register early!
$105 for 1 GEM (1 grandmother and 1 granddaughter
)
$20 for additional granddaughters
OTHER OPTIONAL AWARDS:
Best Trendy Wear
Best Tribute
---
Continue your registration here with Paypal

You must complete the registration form and make payment to be considered a contestant in the Miss GEM Pageant

You will be contacted 48-72 hrs. before the pageant date with a pageant schedule.

---