Awards & Recognition
---
---
CBS Woman of the Week
---
MEET MS. MOMPRENEUR 2014, 2015 - Kenyonn Demps
---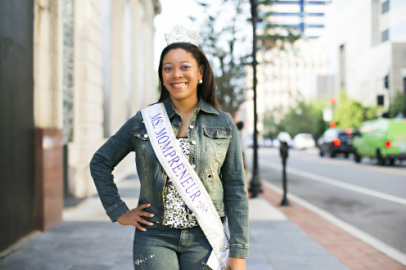 Career Accomplishments: After graduating with honors and earning her license in nursing home administration, Kenyonn served as the Executive Director of several nursing homes and assisted living facilities up to 248 units. Kenyonn was honored for her hard work and dedication to the senior community and was nominated for Nursing Home Administrator of the Year. Kenyonn's contributions to the senior community have been profiled in various newspapers, magazines, and newsletters. Kenyonn's passion for serving seniors is endless. As the Founder and Director of A Seasoned Affair, Inc. Kenyonn educates the community, businesses, and organizations on the ABC's of Long Term Care, Adult Day Care Services, How to Choose a Nursing Home and Goal Setting. Kenyonn also empowers women aged 60 and older to embrace aging through the world of pageantry. She creates paths for them to get more involved with the community and helps them to reinvent themselves. In addition, Kenyonn hosts a radio show entitled Senior Chat. Senior Chat focuses on a variety of topics ranging from resources available for seniors, health and well being, improving self esteem, dating, and new developments in the senior market.

Platform Issue: My mission is to positively impact the lives of senior citizens by educating our communities and empowering our senior women to reinvent themselves through self expression and the world of pageantry.

If you live anywhere in the world, where would it be? I can make my home anywhere in the world where I can fulfill my passion and make a contribution to our community.

If you could meet anyone in the world, who would it be? Dr. Ben Carson, Oprah Winfrey, and the late Dr. Ethel Percy Andrus. Each of these persons has made a significant contribution to mankind. Their experiences, stories, and how they have held steadfast to achieving their goals while dispelling myths and overcoming obstacles are invaluable life lessons.

Best advice you have ever been given? I remember this like it was yesterday… Andi, my first Regional Vice President in the nursing home industry told me "never – ever give up on being and showing my true self". As an entrepreneur, those are valuable words that were trusted to me and in return, I have shared with so many.

Who is your role model and why? I have had many role models in my life. It would not be right if I did not acknowledge my mom and dad. They taught me so much about life, how to survive, how to play chess, how to sew, and ultimately created a foundation for me to become independent, strong, capable, and a positive contributor to our community. I also consider all my adopted older sisters (women who came through the Ms. Senior Jacksonville Pageant aged 60 and above) as role models because each of them have contributed to my growth and development. I look to them for wisdom and they are always willingly share.

Something interesting about you: In my early teens, I found my passion to serve senior citizens. It has always been a natural gift and I would not trade it for anything in the world.
---
​Gallery
---