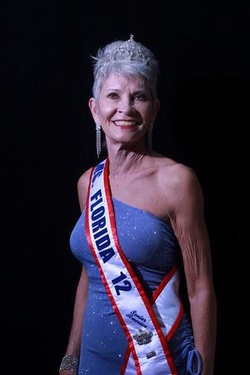 Rebecca Ford LaNasa is originally from the Mississippi Gulf Coast. She as been a resident of Florida for over twenty years, having lived in Fort Lauderdale for ten years prior to moving to Palm Coast after retiring from a successful and award winning twenty-five year career in sales and service of corporate life and health insurance.

She attended Stone County High School in Wiggins, Mississippi, where she played the flute in the concert band. During her senior year in high school, she excelled as her high school's Drum Major and was honored as the Homecoming Queen. Rebecca has always led an active life. She was the "Princess of the Lakes" for the Mississippi Deep Sea Fishing Rodeo and a majorette in the Lions All State Band where she performed in Chicago in front of the Tribune building and marched in the streets of the Miami Beach. At the Perkinston Campus of Mississippi Gulf Coast Community College she was Head Perkette leading the band and dance team in many football games and parades.

Rebecca had to be strong and independent early in life. "Butch, (my brother) and I lost our mother to cancer when we were 12 and 14 years old". This was one challenge that she attributes to her lifelong independent attitude. She had to learn quickly how to make the right decisions. One memory she holds dear is her mother's extended family holding an annual family reunion every Fathers Day for the past 60 years. She looks forward to it and through their love, support, and their interest in genealogy, Rebecca's aunts, uncles, and cousins have encouraged and supported her interest in genealogy.

Rebecca enjoys her family and spending quality time with them. Rebecca had a wonderful time when her brother's family gathered at the beach last year for "Christmas in July". She had such fun building a sand "snowman" with her three adult children, 6 grand-children, and 1 great-grand. What a joy!

As you have read, Rebecca loves staying active. When she moved to Palm Coast, Florida she developed an interest in the health benefits of exercise. She fell in love with Zumba after she read how it originated nearly 12 years ago. Rebecca earned her Advanced Certification in Pilates, is certified in Group Fitness through the Aerobics and Fitness Association of America, and is now a licensed Zumba Fitness instructor, teaching 10 hours of Zumba classes per week. She believes that Zumba allows people to get their heart rate up, increase their self esteem, and have fun! "I always tell people that there are no mistakes in Zumba, only unintended solos."

As the reigning Ms. Florida Senior America, continues to stay active in her local Toastmasters Club and strives to encourage men and women to keep moving in order to stay young. She believed that mothers need to take care of their children's mother and understand that it is not selfish to take care of yourself. By staying healthy, you will be able to meet those beautiful grand and great grandchildren and leave a lasting memory of you being fun and active.

Remember, "It's never too late to start something new. Don't dwell on past mistakes. Yesterday is gone, but there is tomorrow!"


---
Rebecca's Appearances 2012
* upcoming

APRIL
Crowned Ms. Florida Senior America 2012
Recognized in Palm Coast Tribune

MAY
Recognized at Jazz Concert sponsored by local radio station at Daytona State College in Palm Coast
Presentation made at Zumba Master class, Daytona Beach, Fl.
Flagler County Potato Festival parade
Played the washboard on stage after the Potato Festival parade
JUNE
*Performing at Ms. Senior Jacksonville Pageant, Jacksonville, Fl

JULY
Flagler County Fourth of July Parade
Comcast Talk Show Guest, Jacksonville, Fl
Toastmasters District 84 Suntalk article
Healthy, Wealthy and Wise with Abby" show on WNZF.com

AUGUST
Autograph signing, Houston, TX
Daytona Clubs Baseball Game first pitch, Daytona, Fl
Skydiving Adventure
Honorary Duckmaster; Peabody Hotel in Orlando, Fl

SEPTEMBER
*Judging Miss Heart of the USA State Pageant
* TV Show Appearance (It's a surprise!)

OCTOBER
*Competing for Ms. Senior America



---
MS. FLORIDA SENIOR AMERICA PAGEANT



The Ms. Florida Senior America Pageant is an exciting combination of talent and inner beauty along with individual fulfillment and elegance.

More than a "beauty pageant" it is what America is about . . . a re-affirmation of life and self worth, of laughter and tears, of inner beauty and outward charm

Purpose

By giving women 60 years of age and older an opportunity to display their "inner beauty," talents, and elegance, the Pageant seeks to draw attention to the achievements of senior women. The Pageant motivates and encourages women to utilize their full potential and share a positive outlook on life with others. Participants represent a cross section of America.

---

MS. FLORIDA SENIOR AMERICA PAGEANT
Apply to enter at www.senioramerica.org




---
2012 STATE CONTESTANTS -
LADIES, YOU ARE ALL WINNERS!!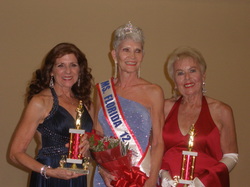 from left to right: Lucia Ernewin; 2nd Runner Up, Rebecca Lanasa; Ms. Florida Senior America, and Sharon Kuhs; 1st Runner Up
---
---
---

Wanna learn more about nationals? Listen to this...

---
---
---
YOU could be Ms. Florida Senior America 2013!



INTERESTED?

WANNA HAVE SOME FUN?

MEET NEW PEOPLE?

SHOW OFF YOUR TALENTS

Contact me today!



Sponsorship Opportunity



If you are interested in marketing your organization at the Ms. Florida Senior America Pageant to all of the contestants, the pageant team, the judges, and everyone in the audience, this is an opportunity for you!

Contact me (904) 887-8156 or email me at

dempsk@gmail.com

for more information.
---
---
MS SENIOR AMERICA 2008